Gift Boxes That Give Back
We are a small, local food tour company with a mission to help urban explorers experience Boston through the lens of local food. Our core values have always included supporting small businesses in our community, so when circumstances surrounding COVID-19 prevented us from offering our tours, we pivoted to find a quarantine-friendly way to continue to support and showcase local business.
Our very first Bites of Boston Box was born of the realization that small businesses really needed support, and everyone could benefit from a little self care as we all weathered 2020 together. We set out to find a way to deliver both, and a very special collaboration with 8 fellow Boston Lady Bosses led to the creation of our very first Bites Box.
We have kept this passion project going ever since, and now have many local gift boxes with fun themes to choose from. We are continually cultivating the relationships that first bloomed in 2020, and we look forward to introducing more creative gift boxes and local makers for the forseeable future!
Check Out Our Gift Boxes!
What will you find in our boxes?
A thoughtful themed collection of products from local makers

A mix of edible items and handmade products for bath, body & home

Story cards with fun facts and stories about each item and local maker
(This is what makes our gift boxes so locally unique and special!)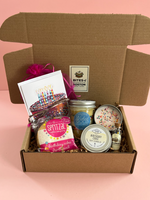 Featured Box: Birthday Wishes & All The Sprinkles
We honestly can't think of a more colorful and sparkly way to say Happy Birthday! This fun curated selection of sweet and celebratory items from women-owned Boston businesses is sure to delight anyone on their special day.
Meet Our Happy Birthday Box!
Don't take our word for it!
Check out these reviews from customers who loved their
Bites of Boston gift boxes:
I sent this as a care package to a friend and she loved it! I would absolutely order again!

Kat on the Black-Owned Boston Gift Box
My recipient loved this gift! I would definitely purchase again because of the speedy delivery. Thank you so much!

Casey on the "Beantown" Coffee Lovers Box
These items are beautifully packaged and are going to make a great gift box for a family friend. I especially appreciate the enclosed information on the products and the makers

Zei on the Black-Owned Boston Gift Box